Safety Technician Training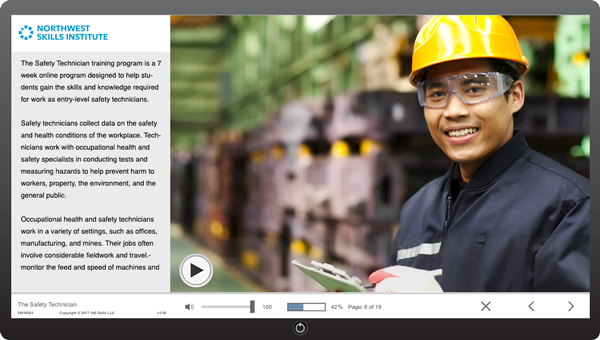 Program Fee: $2,200.00
Program Duration: 7 week / 3 modules a day (approx 110 hrs)
Course Description
The Safety Technician training program is a 7 week online program designed to help students gain the skills and knowledge required for work as entry-level safety technicians.
Safety technicians collect data on the safety and health conditions of the workplace. Technicians work with occupational health and safety specialists in conducting tests and measuring hazards to help prevent harm to workers, property, the environment, and the general public.
Occupational health and safety technicians work in a variety of settings, such as offices, manufacturing, and mines. Their jobs often involve considerable fieldwork and travel.
Course Details
Learning Objectives
Students learn about the following topics:
Workplace Safety Awareness
Manufacturing Essentials
Understanding Logistics
Math Foundations
Career Building Skills
* Students may wish to supplement their training with an in-class Occupational First Aid course. Please contact us for more details.
Admission
Recommended CLB 7 (Canadian Language Benchmark)—Equivalent to IELTS 6 or TOEFL 77-99
Have access to a device that meets the system requirements to use Northwest Skills Institute online courses.
Hiring Industries
Aerospace
Automotive
Civil infrastructure
Construction
Consumer products
Electrical equipment
Marine
Materials processing
Medical devices
Preparing you for success
The Northwest Skills Institute is an industry focused training organization.
Our programs are geared specifically for industry, making students more qualified and READY FOR WORK.