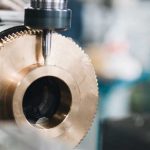 Introduction to Tool Making
Certificate Program
Total Program Hours:
160 hours
Program Duration:
2.5 months / 3 modules per day
Course Description
The Introduction to Tool Making program is an 11 week online program designed to help students gain the skills and knowledge required for work as entry-level tool makers.
This program was developed with input from industry partners to ensure that aerospace tool makers attain mastery of the art of creating aerospace tooling.
Entry-level tool makers analyze specifications, layout metal stock, set up and operate machine tools and fit and assemble parts to make and repair dies, cutting tools, jigs, fixtures and gauges.
Learning Objectives
Students considering this program should work with an employer partner to secure an apprenticeship prior to enrolling.
Tool Essentials in Manufacturing
Aerospace Fastener Basics
Fundamentals of Engineering Drawings
Measurement Tools for Manufacturing
Math Foundations
Workplace Safety Awareness
Career Building Skills
Tooling Capstone Project
Admission
Minimum Canadian Language Benchmark (CLB) 7 or equivalent
Hiring Industries
Air transport
Aircraft and parts manufacturing
Guided missiles, space vehicles, and parts
Satellite communications
Search, detection, and navigation guidance
Job Placement Support
Please contact us for information about our job placement support services.
Median
Median: $26.90/hour The salary for this position ranges from $15 to 36 per hour.