CNC Lathe Production Technician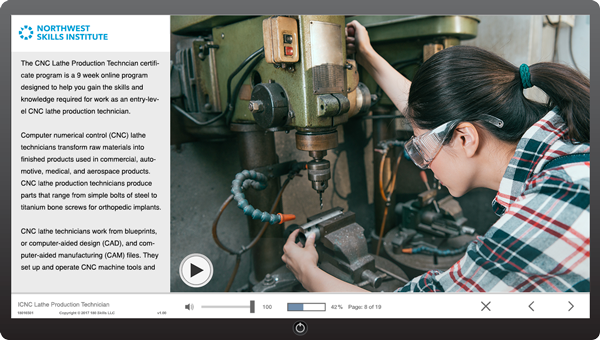 Program Fee: $3,200.00
Program Duration: 2 months / 3 modules a day (approx 130.8 hrs)
Course Description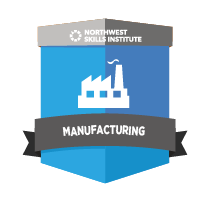 The CNC Lathe Production Techncian certificate program is a 9 week online program designed to help you gain the skills and knowledge required for work as an entry-level CNC lathe production technician.
Computer numerical control (CNC) lathe technicians transform raw materials into finished products used in commercial, automotive, medical, and aerospace products. CNC lathe production technicians produce parts that range from simple bolts of steel to titanium bone screws for orthopedic implants.
CNC lathe technicians work from blueprints, or computer-aided design (CAD), and computer-aided manufacturing (CAM) files. They set up and operate CNC machine tools and monitor the feed and speed of machines and measure, examine, and test completed products for defects.
Course Details
Learning Objectives
Students complete courses in the following areas:
Introduction to CNC (Computer Numerical Controlled) Machining
Fundamentals of Engineering Drawings
Understanding Materials in Manufacturing
Measurement Tools for Manufacturing
Math Foundations
Workplace Safety Awareness
Career Building Skills
Admission
Recommended CLB 7 (Canadian Language Benchmark)—Equivalent to IELTS 6 or TOEFL 77-99
Have access to a device that meets the system requirements to use Northwest Skills Institute online courses.
Job Placement Support
Please contact us for information about our job placement support services.
Median
Median: $21/hour The salary for this position ranges from $15 to $29.50 per hour
Preparing you for success
The Northwest Skills Institute is an industry focused training organization.
Our programs are geared specifically for industry, making students more qualified and READY FOR WORK.