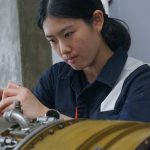 Aerospace Structures Technician
The training you need, when you need it, where you need it
Certificate Program
Total Program Hours:
184 hours
Program Duration:
2.8 months / 3 modules a day
Course Description
The Aerospace Structures Technician certificate program is a 12 week online program designed to help you gain the skills and knowledge required for work as an entry-level Aerospace Structures Technician.
This program was developed with input from industry partners to ensure that aerospace structures technicians have a deep knowledge and mastery of the aircraft manufacturing processes.
Aerospace structures technicians assemble, fit, fasten, and install parts of airplanes, space vehicles, or missiles, such as tails, wings, fuselage, bulkheads, stabilizers, landing gear, rigging and control equipment, or heating and ventilating systems.
Learning Objectives
Students complete courses in the following areas:
Introduction to Aerospace Assembly
Aerospace Fasteners
Fundamentals of Engineering Drawings
Understanding Composites
Introduction to Electrical Skills
Measurement Tools for Manufacturing
Power Hand Tools for Manufacturing
Math Foundations
Workplace Safety Awareness
Career Building Skills
Admission
Minimum Canadian Language Benchmark (CLB) 7 or equivalent
Manufacturing Production Worker Level 1 or equivalent recommended
Hiring Industries
Air transport
Aircraft and parts manufacturing
Guided missiles, space vehicles, and parts
Satellite communications
Search, detection, and navigation guidance
Required Program Materials
Access To A Computer With A Modern Browser Installed (Chrome, Firefox, Internet Explorer)
Access To High Speed Internet
Job Placement Support
Please contact us for information about our job placement support services.
Median
Median: $21/hour The salary for this position ranges from $15 to $29.50 per hour.