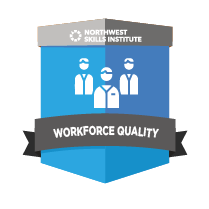 Process management method that improves efficiency
Lean Six Sigma is a process management method that improves efficiency, reduces waste, and increases quality in business. Process management uses collaborative team effort and statistical analysis to measure and eliminate the root causes of variability and defects rather than guesswork.
Lean Six Sigma is used by all types of organizations, industries, and services to improve performance, raise employee and customer satisfaction, and increase profits.
The Six Sigma Green Belt is a team leader who works in support of, or under the supervision of, a Six Sigma Black Belt. He or she analyzes and solves quality problems and is involved in quality improvement projects.
Admission Requirements:
Recommended CLB 7 (Canadian Language Benchmark)—Equivalent to IELTS 6 OR TOEFL 77-99
Have access to a device that meets the system requirements to use Northwest Skills Institute online courses.
Course Outline
Prerequisites
These courses are a tremendous opportunity for you to learn skills that are needed for employment in growing industries across the country. Your participation in these courses is a unique opportunity for you to set a path for success on your career journey.
By the end of this course, you will be able to
Understand the value of this educational opportunity
Define the three steps to greatness
Explain the importance of certifications
The first page of a course is always the objectives page. The objectives page introduces the course and lists the learning objectives of the course.
This course explains how a course is structured and how you can interact with the course.
By the end of this course, you will be able to
Describe the different sections of the screen in a course
Understand how to navigate through a course
Explain how to use a knowledge check
Describe how to use a drag and drop activity
Describe how to use an input box activity
The learning management system (LMS) allows you to easily navigate your online education. Using the LMS, you can access learning paths, study guides, and assessments.
By the end of this course, you will be able to
Understand how to use the LMS
Explain how to launch a course
Describe how to take an assessment
Tips for Succeeding in Online Learning
An online course is a great way to learn, but it is different from taking a class in a classroom. This course provides tips to help you succeed in an online learning environment.
By the end of this course, you will be able to
Set a study schedule
List tips for retaining the information you have studied
List tips for taking quizzes
Foundational Programs
Six Sigma and the Organization
Six Sigma is the structured, disciplined pursuit of near perfection in the products or services an organization produces.
It is based on statistical techniques and tools, and attempts to improve an organization's bottom line by eliminating the variation in business processes that can result in defects.
By the end of this course, you will be able to:
Define the origins of Six Sigma
Recognize why organizations use Six Sigma
Explain how they apply its philosophy and goals
Describe how process inputs, outputs, and feedback impact the larger organization
Recognize key drivers for business and how key metrics and scorecards are developed
Describe the project selection process
Explain when to use Six Sigma improvement methodology as opposed to other problem-solving tools
Explain how a project supports and is linked to organizational goals
Lean principles are designed to help an organization achieve process perfection. The foundation of lean principles are employee involvement, adding the maximum value, and the elimination of waste. Lean is a journey toward understanding the customer and their needs.
By the end of this course, you will be able to
Define and describe the concepts of lean, including pull and perfection
Define and describe the elimination of waste using tools like 5S, kaizen, and poke-yoke
Use a value stream map to identify waste
Explain value
Define value, value-added, and non-value-added
Identify the terms used to describe waste
Describe the theory of constraints
Design for Six Sigma (DFSS) is an application of Six Sigma that encompasses the product design and redesign processes. DFSS makes certain that the voice of the customer is built into every new product and service.
By the end of this course, you will be able to:
Describe how quality function deployment fits into the overall DFSS process
Define the purpose of the QFD
Create a QFD matrix
Explain the purpose of process and design failure mode and effects analyses (PFMEA and DFMEA)
Calculate the RPN value for a PFMEA and DFMEA
Explain the differences between a PFMEA and a DFMEA
Fundamental Programs
Process Elements for Projects
A Six Sigma project often requires a large amount of time from many people, and can be quite costly to the organization. The define portion of the DMAIC continuous improvement model provides the information and tools necessary to identify the issue causing decreased customer satisfaction, and to ensure the project will be a value-added activity.
By the end of this course, you will be able to:
Define components of processes
Define process boundaries
Describe the difference between internal and external customers
Define process owner
Define process stakeholder
List some means of identifying customers
Identify means for collecting customer data
Project Management Basics
Basic project management techniques are key contributors to the success of a Six Sigma project. Creating a project charter and performing risk analysis during the define phase helps a Six Sigma project stay on target and addresses potential risks.
By the end of this course, you will be able to:
List the contents of a project charter
Define problem statement
Define purpose
Define benefits
Define scope
Define results
State the benefit of project risk analysis
Management and Planning Tools
The success of a Six Sigma project depends on accurately identifying the current state of a process, and then assessing the problems within the process. A number of management and planning tools are available for this purpose.
By the end of this course, you will be able to:
Define affinity diagram
Define interrelationship diagraph
Define tree diagram
Define prioritization matrix
Define PDPC
Define activity network diagram
Define matrix diagram
Identify types and uses of matrix diagrams
Business Results for Improvement Projects
To complete the define phase of a Six Sigma project, it's necessary to be able to assess its performance. Business results are measurements of performance that can be applied to the business, project, or process.
By the end of this course, you will be able to:
Define Defects per Unit (DPU)
Define Rolled Throughput Yield (RTY)
Define Defects per Million Opportunities (DPMO)
Describe sigma level
Describe process capability indices
Project Team Dynamics and Performance
To be successful, a Six Sigma project must be executed by an effective team. Teams evolve over time, passing through definite phases of evolution until they find their place in the organization's Six Sigma structure.
By the end of this course, you will be able to:
Define and describe the stages of team evolution
List the different roles in a Six Sigma team
Define brainstorming
Define nominal group technique
Define multivoting
A wide variety of tools exist for use in the define phase of a Six Sigma project. Each tool can provide insight into an organization's processes and help with the development of a good project plan.
By the end of this course, you will be able to:
Surveys
Focus groups
Interviews
Audits
Cause and effect diagrams
Check sheets
Graphical charts
Sampling plans
Advanced Quality Planning (AQP)
Benchmarking
Force field analysis
Gantt charts
Project Evaluation and Review Technique (PERT)/Critical Path Method (CPM)
Process Analysis and Documentation
The measure portion of the DMAIC methodology provides a Six Sigma team with the tools needed to focus the project on possible causes of problems and solutions to those causes.
By the end of this course, you will be able to
Identify and review process maps, written procedures, and work instructions
Identify process input variables and process output variables
Recognize the relationships between input variables and output variables
Probability and Statistics
In today's business world, companies cannot remain competitive if they must measure every product's weight, colour, size, strength, and any other characteristic 100 percent. Organizations use probability and statistics to measure samples of a product and provide mathematical proof of the quality of the product or process.
By the end of this course, you will be able to
Define probability
Describe and apply probability concepts
Define statistics
List statistical parameters
Distinguish between descriptive and inferential statistics
Distinguish between a population parameter and a sample statistic
Define a central limit theorem and its significance in statistics
Collecting and Summarizing Data
To improve a process or product it is important to know its current status and its status after improvements are made. Valid data must be collected and summarized to verify the status of the process or product.
By the end of this course, you will be able to
Identify continuous or variable data
Identify discrete or attribute data
Describe and define nominal, ordinal, interval, and ratio measurement scales
Define and apply methods for collecting data
Define and apply techniques such as random sampling, stratified sampling, and sample homogeneity
Depict relationships by constructing, applying, and interpreting diagrams and charts
Probability Distributions
A random experiment or sample can result in different outcomes. The probability that each outcome will occur can be calculated and charted using different probability distributions.
By the end of this course, you will be able to
Describe and interpret normal, binomial, Poisson, t, chi square, and F distributions
Identify formulas for calculating the probability of data values of different probability distributions
Measurement System Analysis
Data often consists of measurements of characteristics or conditions. A measurement system analysis is necessary to identify measurement variation and distinguish between measurement and process variation.
By the end of this course, you will be able to
Define measurement system analysis
Identify and conduct gauge repeatability and reproducibility studies
Define measurement terms including sensitivity, accuracy, precision, bias, and linearity
Process Capability Performance
A main goal of a Six Sigma project is to reduce variation in a process. To meet this goal, the Six Sigma team must know the capability and performance of the process before and after improvements are implemented.
By the end of this course, you will be able to
Describe the process of conducting a process capability study
Distinguish between natural process limits and specification limits
Define and calculate process capability indices
Define and calculate process performance indices
Describe the differences between short-term and long-term capability
SIX-3016 Exploratory Data Analysis
Before any problem can be eliminated or controlled, the cause of the problem must be identified and confirmed. Six Sigma teams use statistical tools to perform an analysis of data to identify and confirm the variable that causes most variation in a process or product.
By the end of this course, you will be able to
Create and interpret multi-vari studies
Identify the differences between positional, cyclical, and temporal variations
Identify the largest source of variation in a process using a multi-vari study
Interpret the linear correlation coefficient
Determine the statistical significance of a linear correlation coefficient
Identify the equation for linear regression
Hypotheses tests are statistical methods of making decisions on the results of a study to determine if the results are truly related, or if they occur by chance. Hypotheses tests differ in the results they produce and what information is required, but they all share some basic terms and concepts.
By the end of this course, you will be able to
Define and distinguish between statistical significance and practical significance
Apply tests for significance level, power, and type I and type II errors
Define null and alternative hypotheses
List acceptable null and alternative hypotheses for statistical parameters
Determine appropriate sample size for various tests
Define confidence levels and confidence intervals
Calculate confidence intervals for population parameters
Six Sigma teams must understand the difference between the types of hypotheses tests to determine the proper test for the problem. Selection of the proper test is determined by the statistical parameter to be tested and the available information from the sample data.
By the end of this course, you will be able to
List common hypotheses tests
Define and describe paired-comparison hypotheses tests
Define terms related to one-way ANOVAs and interpret their results and data plots
Define and interpret chi-square and use it to determine statistical significance
Properly designed experiments are essential to improving a Six Sigma project and making the project successful.
By the end of this course, you will be able to
Define terms associated with the design of experiments
Interpret main effects of a factor
Interpret interaction plots
Statistical Process Control, or SPC, is a quality control methodology that uses statistics to predict variation in processes. SPC is the basis for the control portion of a Six Sigma project.
By the end of this course, you will be able to
Define statistical process control
Define and describe the objectives and benefits of statistical process control
Explain the types of variation that exist in a process
Define and describe how rational subgrouping is used
Identify, select, construct, and apply various control charts
Interpret various control charts
Improvements to a process are almost always needed to meet the goals of an organization. Many Six Sigma tools can be used to implement and validate the improvements.
By the end of this course, you will be able to
List the steps to improve a process
Identify Six Sigma tools used to improve a project
Identify Six Sigma tools used to validate improvement efforts
The control plan is one of the most important documents used to maintain the gains made during the analysis and improve portions of a Six Sigma project. The control plan is a "living" document that is continually updated to capture continuing improvements.
By the end of this course, you will be able to
Define the minimum requirements for a control plan
List sources of information for a control plan
List required documents based on a control plan
Define a dynamic control plan
Preparing you for success
The Northwest Skills Institute is an industry focused training organization.
Our programs are geared specifically for industry, making students more qualified and READY FOR WORK.