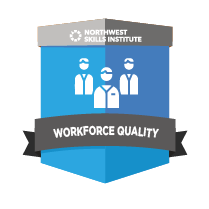 Admission Requirements:
Recommended CLB 7 (Canadian Language Benchmark)—Equivalent to IELTS 6 OR TOEFL 77-99
Have access to a device that meets the system requirements to use Northwest Skills Institute online courses.
Course Outline
Prerequisites
These courses are a tremendous opportunity for you to learn skills that are needed for employment in growing industries across the country. Your participation in these courses is a unique opportunity for you to set a path for success on your career journey.
By the end of this course, you will be able to
Understand the value of this educational opportunity
Define the three steps to greatness
Explain the importance of certifications
The first page of a course is always the objectives page. The objectives page introduces the course and lists the learning objectives of the course.
This course explains how a course is structured and how you can interact with the course.
By the end of this course, you will be able to
Describe the different sections of the screen in a course
Understand how to navigate through a course
Explain how to use a knowledge check
Describe how to use a drag and drop activity
Describe how to use an input box activity
The learning management system (LMS) allows you to easily navigate your online education. Using the LMS, you can access learning paths, study guides, and assessments.
By the end of this course, you will be able to
Understand how to use the LMS
Explain how to launch a course
Describe how to take an assessment
Tips for Succeeding in Online Learning
An online course is a great way to learn, but it is different from taking a class in a classroom. This course provides tips to help you succeed in an online learning environment.
By the end of this course, you will be able to
Set a study schedule
List tips for retaining the information you have studied
List tips for taking quizzes
Foundational Courses
Sexual Harassment for Employees - Preventing Sexual Harassment
Sexual harassment is an illegal form of sex discrimination. It can have a significant, negative impact on a work environment if left unchecked. This module discusses sexual harassment and steps you can take to prevent or respond to sexual harassment.
By the end of this course, you will be able to
Define sexual harassment
Define the terms harasser, target, and bystander
Describe quid pro quo sexual harassment
Describe hostile work environment sexual harassment
List different types of behavior that can create a hostile work environment
Define sex-based harassment
Explain steps you can take to stop sexual harassment if you are the target of harassment or a bystander
Understand that retaliation for speaking out against sexual harassment is illegal
List who you can go to if you have questions about sexual harassment
Sexual Harassment for Supervisors - Sexual Harassment Guidelines for Supervisors
As a supervisor, you have an important part to play in creating a positive work environment that is free from sexual harassment. This module discusses steps you can take to prevent sexual harassment and respond to complaints of sexual harassment.
By the end of this course, you will be able to
List steps for preventing sexual harassment
Describe what is usually included in a policy against sexual harassment
List steps for responding to a complaint of sexual harassment
Understand that an employee might be able to sue their employer for damages because of sexual harassment
Preparing you for success
The Northwest Skills Institute is an industry focused training organization.
Our programs are geared specifically for industry, making students more qualified and READY FOR WORK.