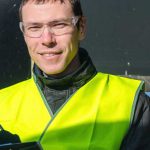 Aerospace Electrical Assembly Technician
Electronic systems skills for aerospace
Certificate Program
Total Program Hours:
209 hours
Program Duration:
3.2 MONTHS / 3 MODULES PER DAY
Aerospace Electrical Assembly Technician
The Aerospace Electrical Assembly Technician program is a 14 week online program designed to help students gain the skills and knowledge required for work as entry-level Aerospace Electrical Assembly Technicians.
Today's aircraft are highly complex machines with hundreds of electronic components and miles of wiring. Aerospace electrical assembly technicians ensure that the electronic systems on modern aircraft operate at peak performance.
They prepare wiring layouts, select and install a wide range of electrical components, perform scheduled maintenance, and complete inspections. Repairing, diagnosing, and assembling the electronic components, aerospace electrical assembly technicians play a crucial role in ensuring worry-free flight.
Learning Objectives
Students complete courses in the following areas:
Introduction To Aerospace Assembly
Essentials Of Aerospace Electrical Assembly
Fundamentals Of Engineering Drawings
Aerospace Fasteners
Measurement Tools For Manufacturing
Cutting Tool Basics
Power Hand Tools For Manufacturing
Hiring Industries
Air Transport
Aircraft And Parts Manufacturing
Guided Missiles, Space Vehicles, And Parts
Satellite Communications
Search, Detection, And Navigation Guidance
Admission
Minimum Canadian Language Benchmark (CLB) 7 Or Equivalent
Manufacturing Production Worker Level 1 Or Equivalent Recommended
Job Placement Support
Please contact us for information about our job placement support services.
Median
Median: 36/Hour The salary for this position range from $17.50 to $60.44 per hour