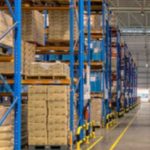 FREE Building Supply, Warehousing & Distribution Training Program
Workforce Skills Training
Total Program Hours:
180 hours
Program Duration:
7 weeks
Building Supply, Warehousing & Distribution Online Training Program
Start Date: March 1st, 2021
* Available to Vancouver Island residents only
The Building Supply, Warehousing & Distribution (BSWD) training program is a 7 weeks fully funded training program FREE for Vancouver Island residents. The BSWD is designed to help students gain the skills and knowledge to work in Canada's many essential industries.
This Free online training program allows students to learn from the comfort of their own home—with daily guidance from an online instructor to help them learn the basic principles of the program.
Upon completion of the training, students will receive an industry recognized certificate and support to pursue job opportunities. Furthermore, with our individualized one-one support, we will help you meet your next career goal.
Eligibility:
Reside on Vancouver Island
Permanent Resident, Canadian Citizen
Unemployed / Underemployed (part time)
May be an active EI or IA recipient
English CLB 7+
Requirements:
Access to a computer with video, audio and reliable internet service
Proficient in navigating webpages
Commitment to completing training and working full time at end of free program
Expected starting salary range for jobs upon completion of training are $15-18/hour.