Tour Bus Driver Certificate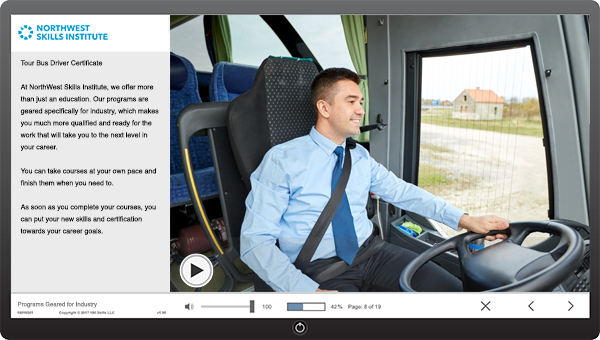 Program Fee: Special pricing (Contact us for details)
Program Duration: 3 weeks
Course Description
A tour bus driver is an individual in an front-line position who leads visitors (individuals or groups) on tours while driving a tour vehicle such as a bus. The tour bus driver ensures that itineraries are followed, provides commentary in an informative and entertaining manner, and creates positive and safe travel experiences for tour participants.
Course Details
Learning Objectives
Core Competency 1: Tourism Awareness
Introduction to Tourism and the Role of the Guide
Students are introduced to the tourism industry with a focus on the unique role tour bus drivers play in BC. Consideration is given to concepts and vocabulary common in the tourism sector, key players within the industry and the role of technology and social media. Students learn about the importance of promoting their brand and encouraging secondary spending through links and up-selling
Ecotourism Principles and Minimising Impact
Ecotourism focuses on uniting conservation, communities and sustainable travel. In this unit, students focus on strategies to conduct activities with minimal impact on the areas being visited.
Understanding Visitors and Managing Expectations
In this unit, students identify the attractions in their target work areas and learn what the areas have to offer visitors. Students learn who visitors to the area are and what visitors may need and expect from their visit.
Core Competency 2: Leadership in the Tourism Industry
Interpretive Communication
Students learn how to act as ambassadors for their attractions and local areas and how to use destination knowledge to provide information and advice in an inspiring way. Students learn about the role of communication, the importance of communication, verbal and non-verbal communication, active listening and how to answer questions.
Leadership and Group Management
Students learn about strategies for managing queues, overcoming accessibility issues for people with disabilities and effectively addressing visitor challenges.
Communicating Across Cultures
Students develop strategies for communicating effectively with people from different cultures and with different language levels.
Core Competency 3: Customer Service & Sales
Customer Service
Students learn about service excellence and the role tour guides play in contributing to a great visitor experience. Students learn to identify potentially challenging situations and how to manage visitor dissatisfaction or complaints.
Sales
Students learn to recognize and use opportunities to add value for visitors through effective sales techniques. Students learn the basics of cross-selling and up-selling and identify opportunities for secondary spending.
Upon successful completion of the program, students receive a Tour Bus Driver certificate.
Admission
Minimum Canadian Language Benchmark (CLB) 7 or equivalent
Program Prerequisites
Minimum age: 19 (minimum age allowed to operate a commercial vehicle)
Must have held an unrestricted Class 5 license for minimum of 2 years and have a clean driving record
Preparing you for success
The Northwest Skills Institute is an industry focused training organization.
Our programs are geared specifically for industry, making students more qualified and READY FOR WORK.